Custom Enterprise Asset Management Systems Development
Enhance Equipment Uptime and Cut Operational Costs with Custom EAM System
Why Custom EAM System
Custom Enterprise Asset Management solution gives you a comprehensive view of the complete physical assets life cycle, track assets journey securely, allow you to predictively control asset landscape through analytics, and reduce maintenance costs. Our experience shows that packaged software solutions may not always meet real enterprise needs and requires licensing or considerable customization, which can be hard and expensive in finding the right development resources. That's why asset management solutions we provide are designed for particular business needs, providing turn-key features. Our systems bring transparency, speed, and precision in your asset lifecycle journey while decreasing time, cost, and risk in your business operations.
Advantages of Custom EAM System Development

For Company of any Size
We build software perfectly fitting your particular enterprise with its size and features

Does not Require Licensing
Unlike most package solutions, custom EAM system can be implemented without special licensing

Turnkey Solution
The system is developed according to specific needs without unnecessary functionality and extra modules
Key Modules/Features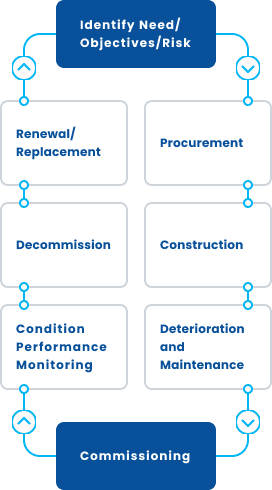 Work order management
The ability to easily create, manage, track, and complete work orders while providing visibility into your operation

MRO materials management
Create material requisition and job orders. The materials management system enables the facilities to immediately begin planning, scheduling, and ordering MRO materials

Warehouse Management
Manage the daily operation of warehouses, taking care of orders, and work monitoring. The module provides accurate, real-time information on inventory

Maintenance and Repair
Manage repair requests, maintenance, and repair schedule for each item based on calculated the risks and consequences

Labor management
Create and manage assessment, training, and certifications for employees, manage tasks for the employees in your organization and help you to boost productivity

Service contract management
Control compliance and expenses at every step of the contract lifecycle. Create and manage contracts and service agreements with customers, vendors, partners, and employees

Financial management
Gather data on work order costs, inventory and procurement costs and integrate with finance software to manage accounting and project spending

Reporting and analytics
Analyze asset performance, spot upcoming risks and issues, collect key performance indicators for your entire facility to make better business decisions with fully customizable reporting dashboards
Why BilSoft
With the experience of helping over 20 enterprises in various industries, we know how to design and develop perfectly suitable EAM solutions according to particular business needs. We deliver custom sophisticated and responsive software to help enterprises increase profits, optimize procurement management, enhance process transparency, and save time and resources.
Industries We Serve

Manufacturing

Healthcare

Marketing

Fintech

Startup

Education

Real estate

Logistics

Energy and energy supply

Retail and wholesale

Food industry and agriculture

Warehouse Management

Get a free consultation from our experts on the implementation of your project.
How We Work
Revealing and Analysing the Requirements
We thoroughly collect and analyze your daily business processes and needs to build a best-fit solution meeting all the requirements
Preparing Wireframes
Once we comprehend your requirements, we create a wireframe for each screen, explaining a complete flow of your EAM system. All the features and functionalities will be covered in the wireframes to give a complete idea about your EAM software.
Design and Development
That's where our development team comes in. Our experienced specialists use development best practices to build high-performing, secure and user-friendly systems, integrating it with required third-parties and conducting data migration if needed.
Testing and Launch
We make sure the system runs perfectly, meets all requirements, and is ready to use. Then we deploy the EAM software to your servers, making it available for employees and admin of your business.
Support
We'll take care of your system after the launch and provide comprehensive support on software fault-tolerant performance.
Have any questions?
ASK OUR EXPERTS FOR FREE!

Thanks for your message.
We'll contact you shortly.
Welcome