Custom ERP Solutions Development
Automate and integrate all your business processes in one single solution
Why Custom ERP
A custom ERP solution can perfectly fit the requirements of your specific enterprise and industry. We provide ERP systems to automate all major processes of your business and integrate this system with any other software you are already using to build a fully-fledged ecosystem with every detail interacting smoothly. Unlike customizing the standard ERPs, which can cause problems with support and further upgrade, building a unique high-end system will guarantee the trouble-free and secure performance of all modules with no data of projects and resources lost on the way.
Advantages of Custom ERP Development

Fast and error-free decision-making due to business processes automation and optimization

All business data centralization and its collaboration

High protection of sensitive data due to multiple security systems and authorization

Significant time savings due to fast data flows

Scalable system to make sure it evolves your business changing

High data visibility and availability anytime from anywhere

Improved quality and efficiency of business operations
Key Custom ERP Modules

Project and Workflow Management


Human Resource Management




Engineering / Production Management


Customer Relationship Management

Custom module according to specific business needs
Why BilSoft
Our team delivers perfect enterprise solutions, focusing on your business success. We specialize in ERP development and creation of fully integrated modules for managing your workforce and workflows, financial flows, and manufacturing processes. You can trust us in building ERP system from scratch, as well as integrate it with external sources and IoT devices.
ERP Solutions We Provide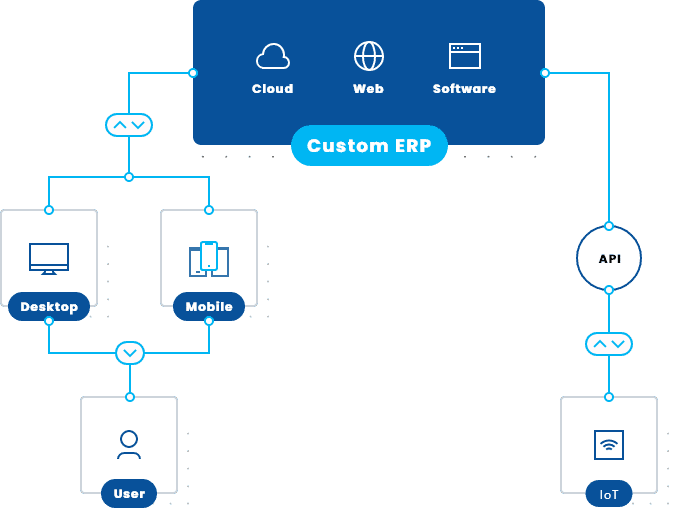 How We Work
We start with a deep analysis of your organization's strategy and existing business processes and then offer you an ERP solution based on your specific needs and requirements. At this stage, we also do consulting, identification of project scope, and the number of modules needed.
Configuration. We continue with designing your ERP system. As a rule, we use a two-tier development approach – we create ERP software that has two levels: corporate and subsidiary (department) levels. In this way, each department remains independent, concentrating on its core business operations, but at the same time, all of them are integrated into one common system.
Customization (optional). We offer such configuration options that incorporate your business rules and practices to deliver the most suitable ERP feature set. By customizing your ERP software, you don't lose your competitive advantage as opposed to the organizations that use standard ERP functionality.
Integration with other systems you use such as Axapta, SAP, MAXIMO.
Extensions, Data Migration, etc. Our team makes sure the system is up and running for your business. So we cover the full cycle of making it ready to perform as soon as possible.
User Training. We make sure you can start using the custom ERP smoothly and efficiently from the first days of launch. Our specialists provide user training for your employees.
Support. You can rely on us in system performance. We'll manage any bugs or issues that can arise after the ERP launch with a set of best practices.
Industries We Serve

Manufacturing

Healthcare

Marketing

Fintech

Startup

Education

Real estate

Logistics

Energy and energy supply

Retail and wholesale

Food industry and agriculture

Warehouse Management
Have any questions?
ASK OUR EXPERTS FOR FREE!

Thanks for your message.
We'll contact you shortly.
Welcome